When Adrienne Burke would drive through Easton center, she often wished there was a place to stop for a good cup of coffee and maybe space to meet with friends.
The freelance journalist made her own wish come true when in June 2017, Dick Greiser decided to retire from running the Greiser store. Burke had to do some fast thinking, but with the help of her husband, Jeff Foster, she turned the Easton unofficial landmark into a warm and comfortable place where neighbors could meet.
The Greiser family had operated the store, selling deli, sundries, antiques and gas for over 91 years. The store was jam packed with merchandise and although saw a steady stream of customers, especially those visiting the post office next door. Though, there wasn't much room to sit and enjoy a sandwich except during the warm months when the regulars would sit outside to discuss the affairs of the day.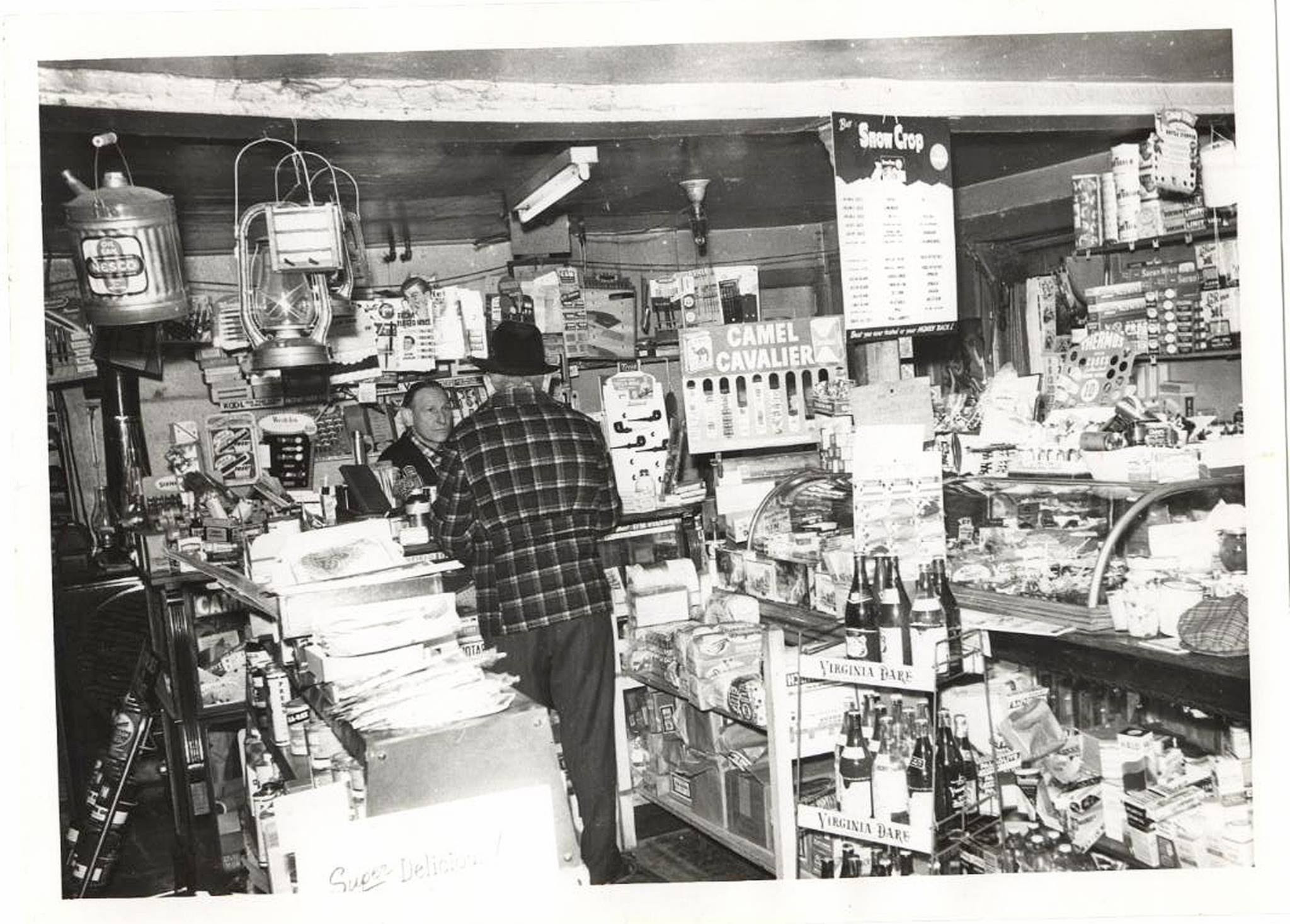 Greiser store in the old days
Burke's coffee shop and market pays tribute to the past. The shop is called Greiser's now… she added the 'S, with the apostrophe being the hummingbird she uses as a symbol. A popular drink is called the "Flying A" named for the gas station sign featured outside the old Grieser store.
Burke's family and friends did a lot of the cleaning and grunt work to and helped her work out the kinks.
She chose La Columbe as her coffee roaster and attended their barista training.
A "kegerator" makes nitro brewed coffee. Adrienne had the unit custom 
made starting with a coffee pot found at a flea market. Jeff uses his craft brewery expertise learned while owning Bank Street Brewing Co in Stamford to formulate the brew.
He now owns Jeff Foster Landscaping, another local Easton business.
The decor is a soothing silver gray eclectically highlighted with antiques. There  are several tables for patrons to enjoy their purchases and meet with friends. Work from local artists adorn the walls. At the moment, paintings from local artist Lee Skalkos are on display.
The shop offers coffee, chai and hot chocolate drinks, delicious pastries and egg sandwiches for breakfast and many yummy choices for lunch. Burke also offers local products for sale.
Coffee mugs were handmade by a friend of Adrienne's who is a potter in California, and then presented to her as a gift. They are housed in a hutch next to the counter. Open a coffee account for $500 to get your name on the hutch along with a personal mug.
Customers are happy to have this unique place to get together. Easton's Annemarie Gaffney said it has Gemütlichk
eit which is a German-language word used to convey the idea of a state or feeling of warmth, friendliness, and good cheer.
Dick Greiser still sells his antiques in a room at the back and he still operates the gas pump. The post office remains next door.
Greiser's is having a special event on black Friday. Stop by from 12-4 the day after Thanksgiving.